Welcome to Shaheen Complex Karachi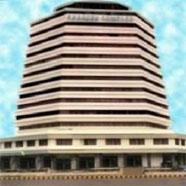 Shaheen Complex, Karachi is the first real estate multi-storey building project in the private sector by Shaheen Foundation, PAF. This building is ideally located at the intersection of M R Kiyani, Dr Ziauddin and I I Chundrigar Roads, which is the business hub of Karachi. Shaheen Complex is a 14 story hexagonal slant structure built on 50202 sqft plot, with a covered area of 185415 sqft. The building was inaugurated by the then Chief of the Air Staff, Air Chief Marshal M Anwar Shamim in 1984 and opened to business in the same year. Shaheen Complex has been a beautiful addition to the Karachi Metropolis skyline, having a unique architectural and structural design. The building is equipped with all the necessary facilities, with latest state-of-the-art assets. It has modern style 3 high speed lifts and 2 high powered Generators capable of taking full electrical load of the entire building. The building is equipped with comprehensive security arrangements which include widespread CCTV system and electronic metal detector security entrance gates.
Shaheen Complex is located in between Egerton and Abbot Road at the center of Lahore. This area is hub of business activities. Mega centers like L.D.A plaza, Lahore Stock Exchange and WAPDA House are across Egerton Road. Major Airline offices are located at walking distance. Total rentable area of 9 floors excluding 2 basements is 210,000 Sq.Ft. On the average each floor is spread over 33,000 sq.ft with net rentable area of 24,000 sq.ft. Size of the offices varies between 755 to 5780 sq.ft. Top class marble finish of work areas alongwith two beautiful sky lights provides additional architectural touch. The entire building is fitted with glass.